1995 AC Mk IV. This is one very, very rare car. Built in 1994 by AC cars ltd Surrey England for the 1995 Detroit Auto Show. This very car was the stand car for AC. It is an all aluminum bodied car built using the original bucks, tools and jigs as the originals. This is NO KIT ! The fit and finish on the car is of superior quality ! The 427 body work was laid by hand. The car runs modern 5.o litre Ford drive train and is EPA and DOT certified. According to a past Vice President of AC Cars Ltd, This very car is the prototype built for the 1995 Detroit Auto Show and is a one off example. The car has 699 miles from new. Books, window sticker and other documentation. Fantastic condition. $225,000
1991 Porsche 944S Cabriolet. 106,000 miles, original paint and interior, virtually flawless, both. There is so much new on this car it is had to list Brand new set of Hankook Tires, New German canvas top, new top limiting switch, new l/f door handle, new torque tube bearings, new inner axle boots, timing belt service at 96,000, clutch at approx 76,000 etc, etc, etc .The car is finished in Guards Red over Black, RARE sport seat option, premium Porsche Sound system (for its day, again, rare) 6 speed manual, No leaks, never damaged, good service records, books,VERY nice car and a steal at just $13,800! SOLD
1997 Porsche 993 C2 Cab. Proper 6 speed manual, power seats, Limited Slip, Finished in Arena Red over gray leather. the car has but 57,o00 miles and is in simply superb condition. Owned and maintained by PCA member. Never abused or damaged. Perfect top. New top cables, Hood painted due to chipping, excellent color match !!! virtually no interior wear. One VERY, VERY NICE 993 !!!! Well priced at just $55,800
1994 840ci. When I think of some of the worlds great GT's the Porsche 928 and these BMW 8 series cars are what I generally think of first. This nice example has about 145,000 miles and is in great condition. All systems function including the AC. The interior is in simply remarkable condition with virtually no wear what-so-ever. This car was taken care of. Great paint with some hood touch-ups, expected. The engine uses no oil. No oil leaks, but, a small power steering leak, nothing severe. This is a great car for just $9,800 and my opinion, one to watch...... SOLD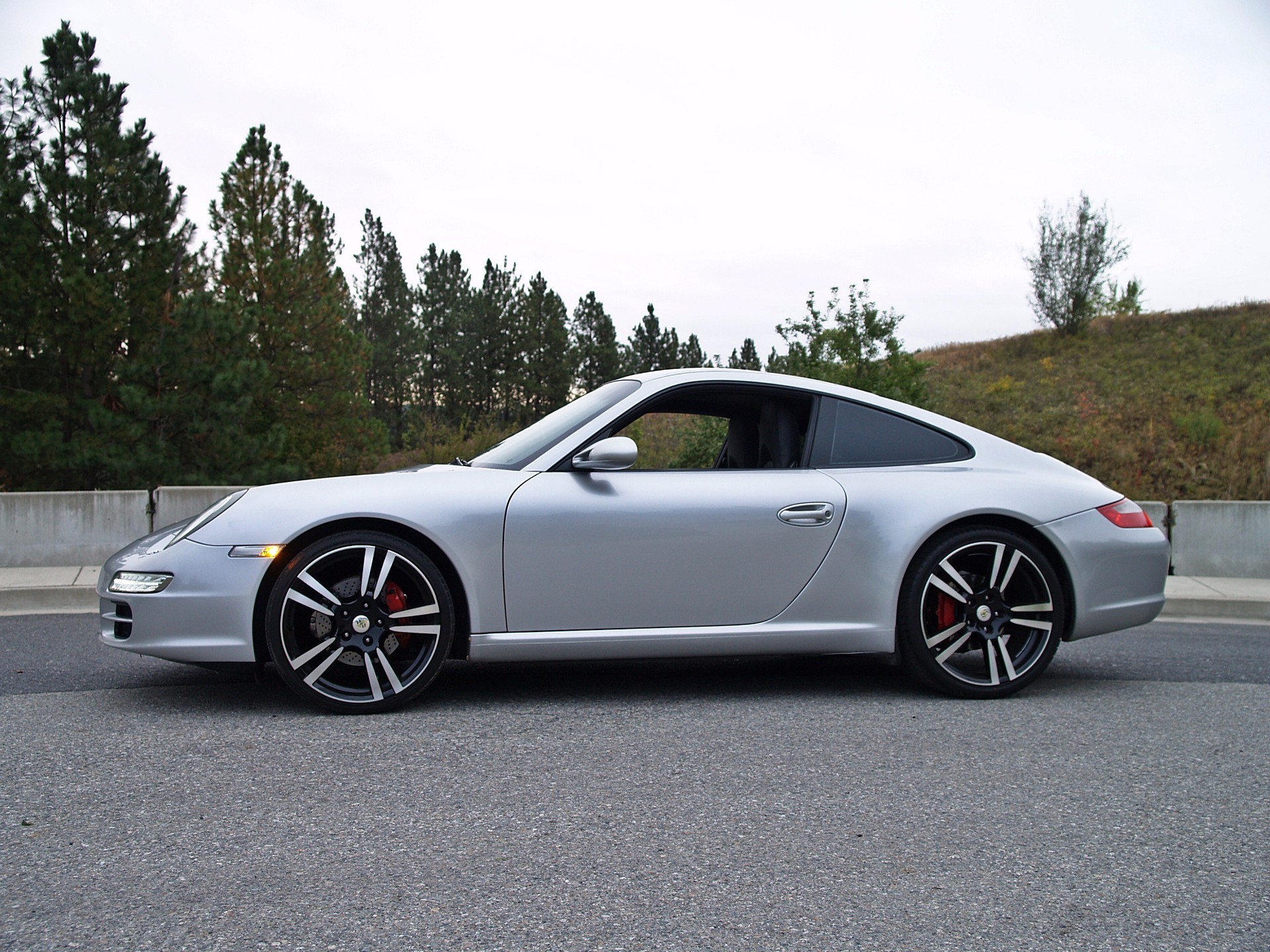 2005 Porsche 911. Silver over Black, Bose, navigation, Factory 20" turbo alloys. 110,000 miles. 6 speed manual. The interior of the car is fantastic. The car has had some paint work and a Carfax shows accident damage years ago, Panel fit is perfect, paint work is excellent, it could not have been much. A recent inspection performed at European Autohaus here in Spokane confirms and it came back clean. The car has no leaks. Brake pads are new both front are rear. Clutch take-up is perfect, no chatter or slip. I would swear that the way the clutch feels, it has to be new and if the gearbox was out, one would think that the bearing would have also been done. No documentation but, ... Cold AC. all systems function and the car runs perfectly. $23,000.....my goodness that is a lot of car for the money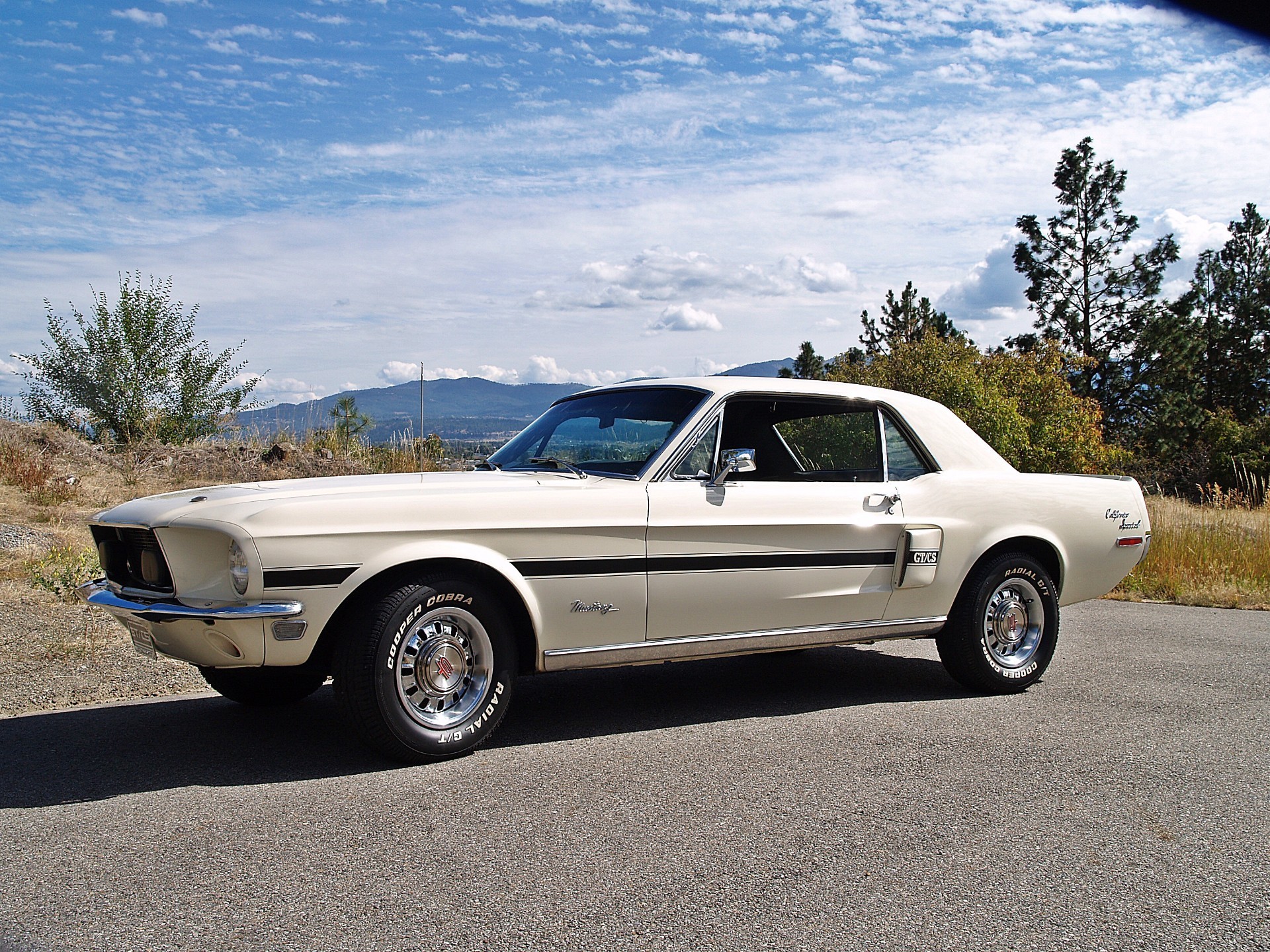 1959 Porsche RSK reproduction. Built on a tube chassis from Thunder Valley. No VW motor in this little rocket either, the car is powered by a 2.2 litre Porsche 911S engine mated to a short geared 901 manual transmission. 911 brakes both front and rear. 15 X 5.5 Porsche steel wheels on 0 mile Yokohama's Not for the meek, this hot rod is about as raw as it gets......it is fun :) $37,500 SOLD
In 1968 California dealers wanted something different to offer their customers and Ford gave it to them in the form of the "California Special" All of the 4,111 Cal Specials were built in Fords San Jose plant and all sold at California Ford dealerships. (there was also a special edition for Ford's customers in Colorado) This car is a very nice 83,000 mile example. It is listed in the GT/CS registry. The car is finished in Wimbledon White over black. it is a factory A/C, power Brake and Power Steering optioned car. The car is in simply excellent condition, no disappointments. Never damaged. No rust and no rust repairs. The car is powered by a great running 302 which starts instantly both cold and warm and is mated to a automatic gearbox that shifts perfectly. This is a car that really should be seen and driven.














Simply stunning and virtually perfect in every way. 2011 Porsche 997 Carrera. White over Black, perfect color combo. 6 speed manual gearbox, perfect gearbox for real drivers :) 19" Porsche Alloys with brand new Hankook high performance tires. Perfect original paint. Never damaged, not even touched up ! One very small stone chip. Perfect original interior showing virtually no wear. Runs perfectly, stops perfectly, brake pads still have plenty of wear left. Just ran the car 1,300 miles...flawless drive and terrific fun.
This car has but 55,000 miles, perfect actually. Less than 10,000 miles per year, so the car was driven, though sparingly. Far better than a car with few or no miles. Any Porschephile will tell you the same...these cars must be driven! $44,800...!!!. SOLD





































1990 911 C2 finished in black over linen gray leather and just 65,000 miles!!! One owner since 1997! Proper manual gearbox. Absolutely gorgeous condition. Recent service by "The Dr" !! A must see 964! Ask $51,700... get me close. This is a VERY nice car with unbelievably nice original paint...a simply stunning Porsche ! SOLD








































































































.All steel body 1940 Ford Business Coupe. Finished in Black over Gray Leather.
This is a VERY well built car.... really a must see. Starts instantly, runs great, extremely fast but, an easy car to drive just the same.
350 Cubic Inch 671 Blown Chevy 550 Horsepower (Estimated....feels like more...a lot more :) ) Edelbrock Carbs Turbo 400, Manual Throttle Body Magnaflow Exhaust Electric Fuel Pump, Mallory Ignition Boyd Coddington Wheels Custom Roll Cage, Sport Comp. Monster Tach, B & M Shifter, Electric Bucket Seats, Clarion Stereo.
Very well built and serious Hot Rod !




















Just over 50,000 DOCUMENTED MILES !! Absolutely original and unmolested 1988 BMW M6. Red over Gray leather. ALL records and I do mean all....a binder full of service history !!!, Books, keys, Original pmetric basket weave BBS alloys AND original tires !!! Second set of wheels and tires for daily use. perhaps one of THE very best M6's anywhere !!!!
$67, 500 reasonable offers considered. THIS is a great car !!!!












ICiao ! I gotta tell ya, I love this little car, it's just so cool! 1981 Fiat 124 spider. The car has but 86,000 miles and has been unbelievably well taken care of. NO rust, never damaged. Adult owned and maintained and it shows ! Anything the car has ever needed was simply done. The service history is awesome! Recent timing belt, BRAND NEW leather seats, just done (August) by Mild to Wild here in Spokane. Manny did a great job. One of the nicest 124's you'll find anywhere. One quality respray to factory silver. (water based paints were terrible back then) The car runs and drives very nicely, it performs well, stops well and is just neat as hell to drive; its tight, no rattles or squeeks. CIAO ! $10,600... make me an offer :)
SOLD











I am pretty much a sports car guy, given the choice. With one very dramatic exception.....I LOVE THIS CAR and have for well over 13 years. In fact, there was a time that I put more miles on it than its owner.... It's THE coolest station wagon on the planet; period.
1955 Chrysler Town and Country station wagon, you may never see one. Only 1036 of these fantastic machines were produced. Maybe 20 have survived and of those, perhaps 5 are this good ! At $5,400 in 1955, this was one pricey car ! The average home was $7,000! If you had a '55 New Yorker Deluxe Town and Country in your driveway, ....you were doing better than most; much better! This is one extraordinary car both in rarity and condition. The car is powered by Chrysler's famous 331 Hemi. There is an interesting story that goes with the car. Please call me on this one.

This is paragraph text. Double click here to edit and add your own text.































































This 1967 Porsche 911 is a documented two owner car. The car has just over 40,000 original miles. The car is a matching numbers example with documentation inclusive of Kardex from Jurgen Barth and Porsche Certificate of Authenticity. The car was originally ordered in Sand Beige and though not absolutely correct was FORTUNATELY and perfectly resprayed to Slate Gray. In this particular instance a significant plus in my opinion. The paint is absolutely perfect, flawless! The interior in the car is as new. The car was ordered with optional Koni shocks, fog lamps, S ventilated brake rotors and 15X4.5 leicht alloy Fuchs. The car is equipped with Uber rare factory 3 point seat belts. Chrome and Glass on the car are perfect. The car is nearly impossible to fault. $111,500












































1953 Lincoln Capri Convertible. Extremely rare. Many believe less than 50 exist today. This was THE car from Lincoln in '53. Older restoration on a rust free car. Great driver/show quality car. More modern Ford 351 drive train though car sold with original engine and gearbox. Terrific paint and interior. Working power top. Great chrome and stainless trim. A very nice and rare Lincoln. $41,800 Reasonable offers considered
.




















1984 Porsche 911 Carrera. Very nice 46,400 mile example, finished in Black over Black. Runs and drives great. transmission shift, excellent. Clutch take-up is chatter and slip free. Perfect brake pedal feel and modulation. Books, tools. Perfect BBS basket weave alloys, typical for the day. Original Blaupunkt stereo. NO leaks. No smoke. Doors ping (if you know, you know) Hood and rear deck lid have been resprayed but to a very high standard. Paint is simply stunning. Great interior, no dash cracks or warping. hood sticker is intact. $48,750 offers considered. SOLD














Spectacular 2013 GMC Yukon XL Denali. 68,000 miles. Adult driven and always dealer maintained. Needs nothing, just serviced. LOADED.... heated seats, cooled seats, navigation, BOSE, rear captain's chairs, third row seats (sat in once?) 8,100 lb tow package. Never damaged, never painted, never smoked in, no pets. CLEAN AS THEY GET ! $31,500
SOLD !































1968 Porsche 911. This wonderfully original 65,000 mile Porsche had but one owner for 48 years. The car has never been damaged and has never had any rust. Mostly original Polo Red paint over an original Black interior. This is a numbers matching car with books, tools, and Porsche COA. The cars original engine was just recently and professionally overhauled. Great shifting gearbox. The car runs and drives perfectly. There are no issues with the car. this 911 is one of the most honest Short wheel base Porsche's I've seen in a very, very long time ! Asking $117,500 reasonable offers considered





















Simply stunning 58,000 mile 1994 BMW 325cic. Black on Black leather, power top, premium package. A one owner car until this year. Books, tools, records. Great paint, perfect top. Proper 5 speed manual gearbox.
E36 BMW's are on the rise. Here is a great opportunity to acquire a very nice low mile example. All vin tags are there. Clean history report. New tires. Just recently serviced. This is a very, very nice car. $7,900













1954 Jaguar XK120SE, fantastic and rare
1954 Jaguar XK120SE roadster. Just 56,000 miles on this unmolested and very rare Jag. Owned over the last 40+ years by one adult owner. Never damaged. No rust. One repaint to the cars original colour some time ago. This wonderful car starts and runs great, the transmission shifts great, no clutch chatter or slip, does leak a bit of oil... they all do ! This is a matching numbers car and it is an "SE", making it even more rare. The "SE" option provided more aggressive camshafts, wire wheels and duel exhaust. Fantastic piece of automotive history and offered at just $84,900
SOLD !























1987 Porsche 911 for sale: This exceptional 88 911 has covered only 68,400 miles from new. It is a two owner car and has had but one adult owner since 1995. The car comes complete with books, tools, service records. compressor and a full bra.
The car is finished in Grand Prix White over black leather. The car is equipped with optional 8 and 9 inch polished Porsche alloys with hand painted centers and sits at European ride height. The hood has been resprayed to due chipping the option sticker is still attached. Interior wear is nearly non-existent with the exception of slight wear on the driver seat bolster. Dash, door pockets, visors and glove door are perfect. Doors ping (if you know you know)

One of the very best G bodied cars I have seen and driven in OVER 20 years ! Simply stunning example! $68,500

SOLD






















2002 BWW M3 for sale. Red over Black leather, SMG gearbox, Harmon Kardon, split rear seats, heated seats, Park distance control. 84,000 miles, always adult owned and driven, never abused. One reported accident with a receipt for a $5,900 repair. The car has just recently been fully serviced, plugs, One coil, oil and filter, coolant flush, brake fluid service, 4 brand new tires (less than 200 miles) and 4 wheel alignment. New Windshield. Nice car !
$11,200



























1991 Porsche 911 C2 Cabriolet for sale. This simply fantastic C2 cab is about as good as they get. Original Guards Red paint over a virtually perfect gray leather interior and fantastic special order coco mats. The car comes complete with service records, books, tools. compressor and is in need of nothing. The car is equipped with Porsche's tiptronic gearbox and though poo-poo'd by some, is bullet-proof reliable. This car is absolutely immaculate in every way. Offers considered.